Sylvanian Families Seaside Cruiser House Boat
This beautiful blue boat doubles as a floating house, and has a pool and waterslide to keep the babies entertained. A must-have for the adventurous sylvanian, this boat is kitted out with all sorts of furniture and accessories including two beds, a kitchen, and a dining space. Compact but practical, the beds magically transform into a shower booth. This set includes a mini boat to help your sylvanians get to shore without getting their paws wet, as well as their very own secluded island to visit. The side of the boat folds down to create more space, and you can slide right into the ocean. Includes Freya Chocolate rabbit dressed for ocean adventures.
Contains over 55 pieces
You can open or close the side and roof of the boat
Suitable for ages 4 years and above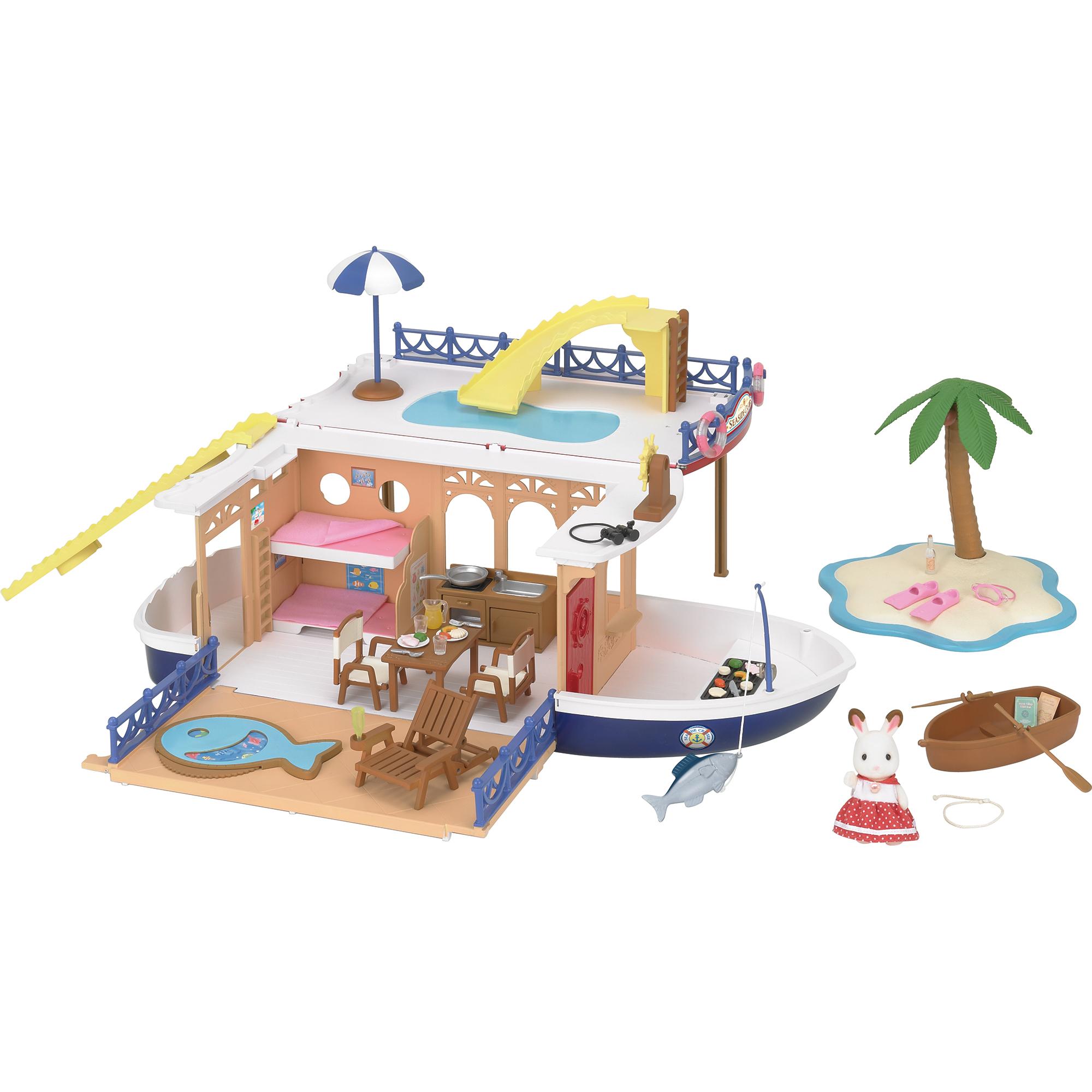 The set comes with accessories such as a fishing rod, rubber rings and snorkeling set, as well as a figurine of the Chocolate Rabbit sister wearing a special outfit. The side and roof of the boat can be opened out and the position of the slide and waterslide can be changed to create a variety of layouts for extra excitement.
1 seaside cruiser house boat; 2 blankets; 1 water slider; 1 ladder; 1 palm tree; 1 small island; 1 coconut; 5 fences; 1 parasol; 1 deck chair; 2 chairs; 1 table; 1 Kitchen; 1 rudder; 1 boat; 2 oars; 2 swim rings; 2 fins; 1 fish rod; 1 big fish; 1 binoculars; 1 message bottle; 1 message; 1 map; 1 goggles; 1 frying pan; 1 oven tray; 1 tong; 2 dishes; 1 pitcher; 1 juice; 2 glasses; 2 onions; 2 pumpkins; 2 green peppers; 2 carrots; 2 scallops, 3 fishes; 2 forks; 1 chocolate rabbit sister.