Playskool Mr Potato Head Darth Tater Container (B1657)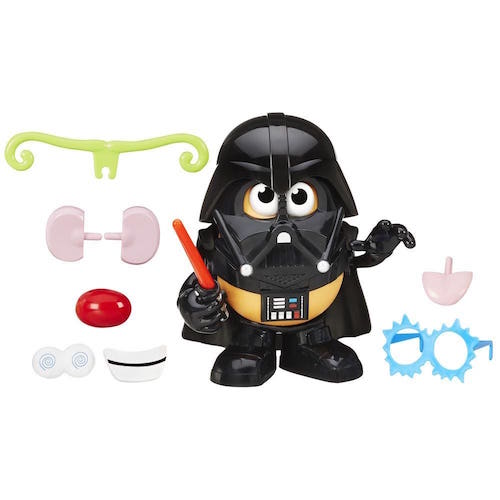 PRODUCT DESCRIPTION:
From a galaxy far, far away comes the Mr. Potato Head Darth Tater Container! This Mr. Potato Head figure turns to the Spud Side as a Darth Tater figure, and he's ready to mash up the Force with 9 character-based costume pieces and 8 fun accessories. Young Jedi can have out-of-this-world adventures creating wacky combinations, then blast off to the next imaginary galactic mission with the convenient tater-shaped carrying container in tow!
Luke, I Am Your Tater
The dark side gets a dose of fun when this Darth Tater figure takes the stage. Young Jedi can style this spud like a true Sith Lord with pieces inspired by Darth Vader, including his helmet, mask, cape, chest plate, gloves, boots, and--of course--his red lightsaber. To mix in a dollop of zany fun, young Jedi can add some of the extra parts: a curly mustache here, some wild glasses there, or even a big grin!
Star Wars products are produced by Hasbro under license from Lucasfilm Ltd.
Hasbro and all related terms are trademarks of Hasbro.
Contain the Force
Cleanup with the Darth Tater Container is easy! This tuber-shaped container fits the Darth Tater figure and all of his included accessories right inside for easy storage and portability. Take the Force on the go, and after play is done, pose the container on a shelf to admire the Darth Tater figure's spudly glory. Plus, the back of the container features a picture of the included pieces so young Jedi can keep track of this spud's duds. The Force is strong with this one!
Mr. Potato Head and Star Wars
Mr. Potato Head is already well-known for hands-on, mix 'n mash play. When combined with the iconic characters from Star Wars, tater time reaches far, far away levels of imagination. Collect all of the Star Wars Mr. Potato Head toys (sold separately) to complete the whole glorious galaxy!
Includes 1 potato body, 1 base, 1 mask, 1 helmet, and 14 accessories.

• Mr. Potato Head as a Darth Tater figure
• Convenient tater-shaped case
• 18 pieces, including 9 character-based costume pieces
• Fun parts for mash-up play
• Features the famed red lightsaber
• Ages 2+